There will be NO 3rd and 4th grade basketball games today.
More PeeWee info: 5th Grade Boys will be combined with the 6th grade boys this Saturday. Looks like first game for 6th boys is 3:00 If we win, the next game will be at 4:30 If we happen to win that game then the next game for championship will be at 645 If we lose the first game we play at 6 If we win first game then lose second game we play at 5:15
Parents, There will be PeeWee games this weekend at Flippin. It is the tournament. This will be the last weekend of this league. Please check the link for schedule and times at
https://beelitesports.org/home
If you have any questions please message Coach Divelbiss at 870-371-0018.

The elementary fall festival will be held next Friday October 8th from 6:00-8:00 pm at the Viola City Park. Along with concessions and games, there will also be a corn hole tournament.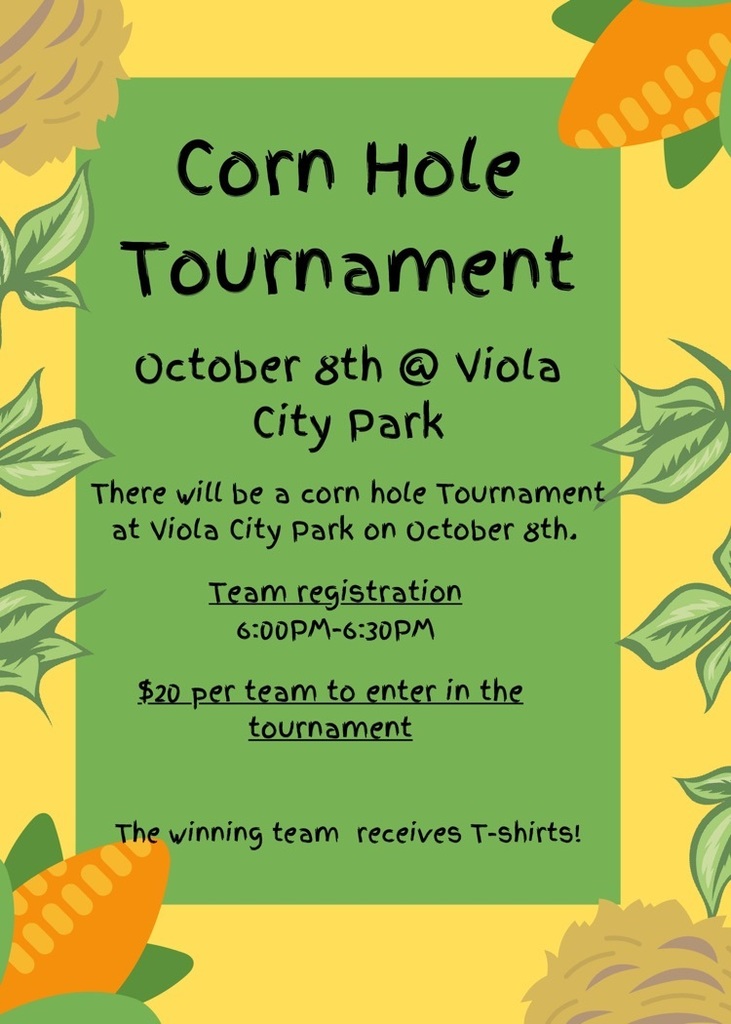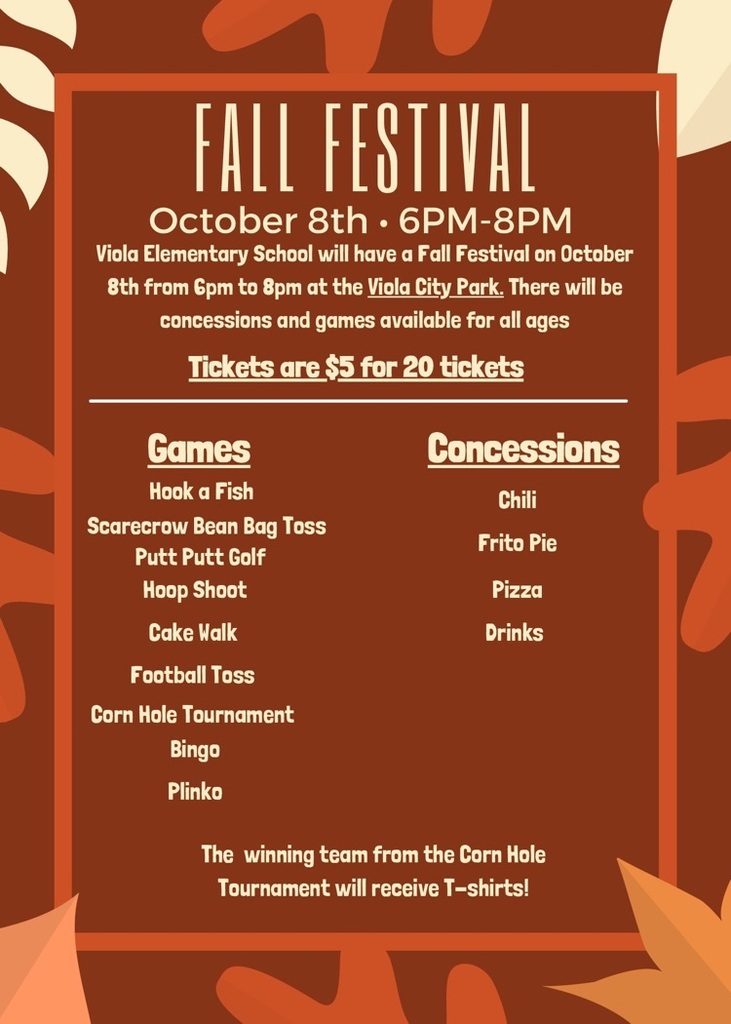 The Free Application for Federal Student Aid (FAFSA) opens today for anyone who will be attending college next year. It is the form that determines your financial aid from the government and most colleges. The form collects personal and financial information from students and parents, and applies a formula to determine your Expected Family Contribution, or EFC. You want to begin working on this early because it includes grant money. Apply at fafsa.gov. Also, the Arkansas scholarship portal opens today at scholarships.adhe.edu. It is for students who plan to attend college in Arkansas. The application is for all Arkansas state scholarships and grants which include the Academic Challenge/Lottery Scholarship, Governor's Scholarship, grants, etc.

The class of 2023 is currently fundraising for prom and their graduation next year. The Black and Orange Games are a huge part of this endeavor. At the game, we host a silent auction where donated items are bid upon. These proceeds assist with obtaining decorations for prom and graduation, flowers for graduation, caps and gowns, senior shirts, and other expenses. We appreciate any items, gift cards, or monetary donations that could be donated. We will proudly display a business card with the items. If you have any questions, please feel free to call (870) 458-2213. You may also talk to one of the Junior Class sponsors, Erlene Divelbiss, Teresa Lester, or Jason Hughes. Thank you for your time and consideration.

Governor Hutchinson has declared Wednesday, September 29th "A Day of Prayer for Arkansas Students". He encourages all citizens of all faiths and backgrounds to voluntarily join in prayer for the success and safety of our students.

VHS Robotics- "Mechanically Challenged" is hosting a Car Wash fundraiser at the Bank of Salem in Salem, Arkansas. Students will be there Monday from 11 am to 5pm to wash cars and accept donations. Come and join us!!!!!!!!!!!!!!

PEEWEE GAME TIME CHANGE. Today's 3rd and 4th grade boys peewee basketball has been changed from 3:00 to 2:15.

There will be NO 3rd and 4th grade boys peewee practice tonight.

A Flu Clinic will be held September 30th for students with a signed permission slip. Please call Viola School to request a form to be sent home with your child. COVID vaccinations will also be available for those who are eligible with a signed permission form.
The 5th/6th peewee games at Flippin on Saturday will be: 5th and 6th grade girls - 11:15 - 2:15 @ Flippin high school gym 5th boys - 5:15 -6:00 @ Flippin high school gym 6th boys -4:30 -6:00 @ Flippin First Baptist Church
The 3/4 peewee games at Flippin on Saturday will be: 3/4th grade girls - 11:15 - 1:30 @ Flippin high school gym 3/4th boys - 3:00 -3:45 @ Flippin high school gym

There will be a Peewee basketball shoot around for 3rd and 4th grade BOYS on Friday afternoon at 3:30pm in the Elementary Gym. Practices for other teams will be scheduled next week.

Read It and Eat It Save the Children family engagement activity September 28th @ 5pm in elementary cafeteria Families can have a spaghetti dinner together with cookies for dessert Read books together about spaghetti and cookies. All first grade students and their families are invited. Please turn in form to classroom teacher if you're coming so there will be plenty to eat. Looking forward to seeing everyone.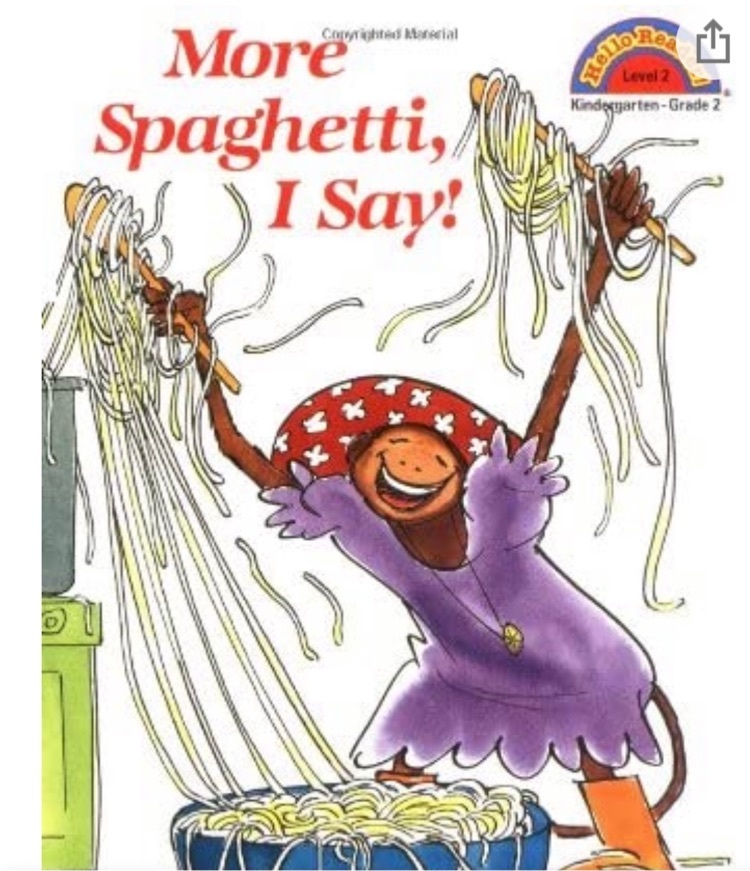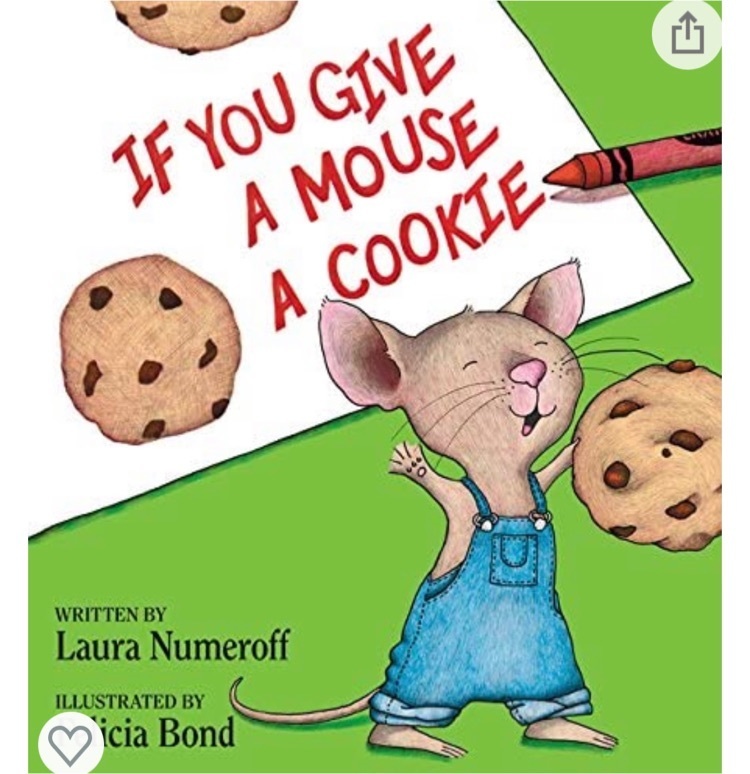 School will dismiss early on Friday, September 17 at 1:00 PM for Parent-Teacher conferences. Conferences will be held from 2:00-6:00 PM.

Save the Children Family Engagement activity for all first grade classes. It is called Read It and Eat It. A spaghetti dinner and cookies for dessert. Tea or water for beverages. It begins at 5:00 pm in the elementary cafeteria. Parents and their children will be provided with a book to read either before or after their meal. The books are More Spaghetti, I Say and If You Give A Mouse A Cookie. Whichever book you choose to read will be yours to keep. Looking forward to seeing everyone. Please let Miss Mary know by 9/22 if you plan to come and how many will be with you so she can plan for enough food.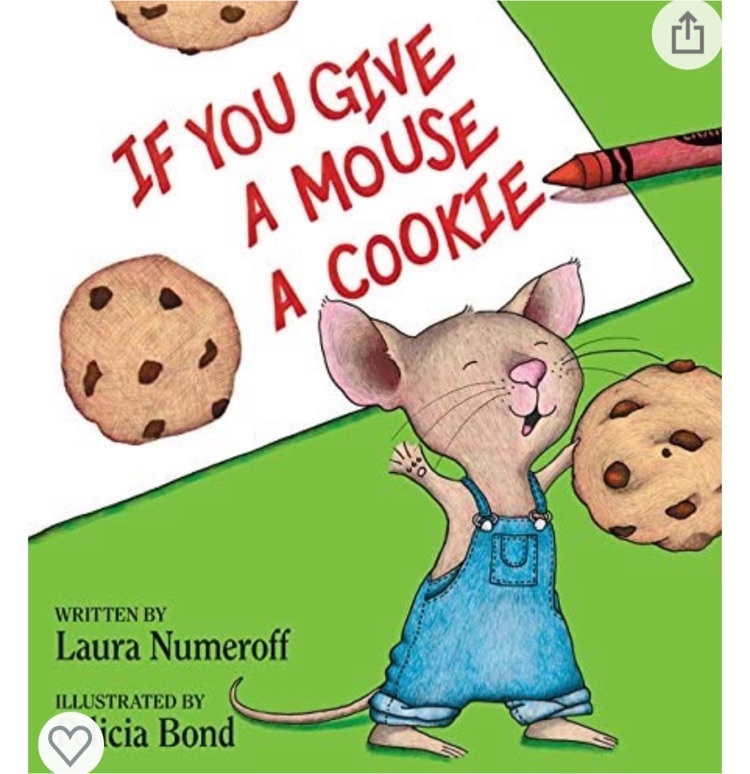 Traffic Update - The East end of Longhorn Dr is back open, but the section along the rock wall is now closed. Elem drop-off and pick-up traffic will have to turn onto Longhorn Drive from Hwy 223. High School and Head Start traffic, as well as buses, will continue to enter the campus from Hwy 62.

Please remember to turn right when exiting the Elementary's gravel pickup and dropoff area. It is a One-Way street during those times each day, even when Longhorn Drive is open.

Viola End of the Week Covid Update: ​There are currently 14 students and 0 staff quarantined from the Viola School District.