I need to cancel the earlier message. We have found a driver for Mrs. Debbie.

Debbie Kinder's bus will not be running before school this morning. If you are unable to get your student that rides her bus to school, please call the high school or elementary office between 7:30-800. We will send someone to pick them up.
The Viola Elementary Christmas Musical will be this Thursday December 8, 2022 in the high school gym. The students will need to be there at 6:15 and the concert will start at 6:30. Thank you for your support, and I will see you Thursday night.


Just a reminder that tonight's basketball games scheduled against ICC have been postponed to a later date.

The ballgames scheduled for Monday 12/5 against ICC have been postponed. The rescheduled date has yet to be determined.

Juniors, please do not forget to return your Opt-In form for the ACT Test by December 16, 2022. The test will be given in late February, but we need this information as soon as possible.
The Viola Elementary, October, students of the month are: Kindergarten: Reagan Newberry and Bentlee Hutson 1st grade: Ivy Kays and Emma Allen 2nd grade: Byntlea Worsham and Whitney Sisco 3rd grade: Maisellyn Wheat and Eastyn Worsham 4th grade: Harper Rowden and Maylee Adams 5th grade: Payton Hutson and Drake Rogers 6th grade: Paul Turner and Elijah Olson Congratulations to everyone!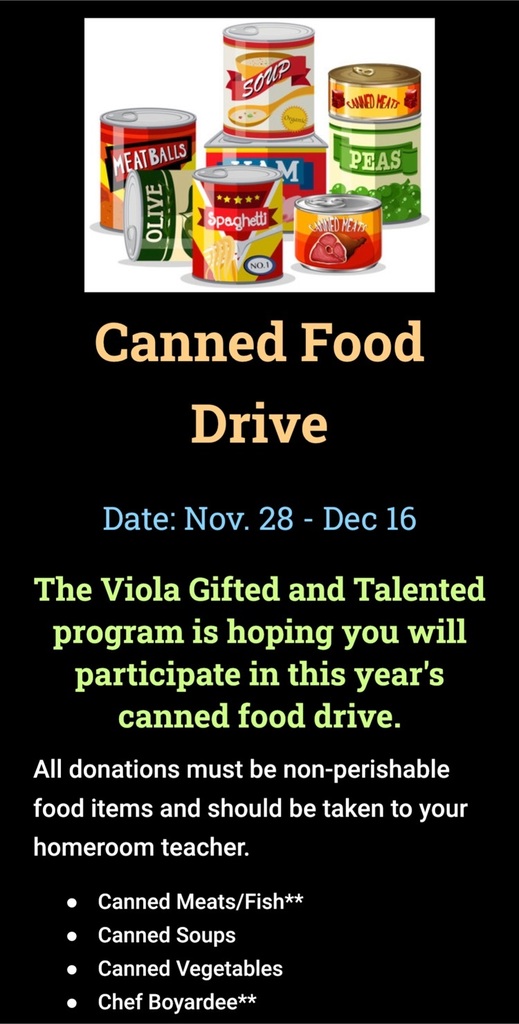 The Viola School Spelling Bee for grades 4-8 is this Friday, December 2 at 9:30 AM. Students have already participated in a Classroom Bee to qualify for the School Bee. The top 6 finalists will head to the County Bee in January. Parents of the students who qualified are invited to attend.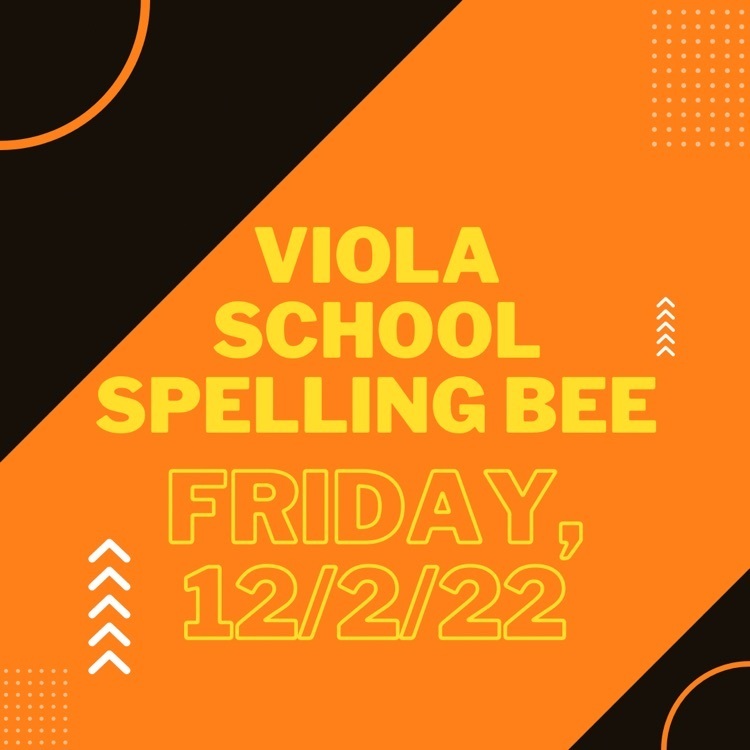 Friendly reminder! Every donation made to Donors Choose is doubled for Giving Tuesday. Check out our Robotics Team's Needs at
https://tinyurl.com/3z7p77nh
or fund your favorite classroom project! Thanks in advance for all your support!

Basketball Update Tomorrow nights games with Timbo are not at Viola. Instead we will travel to Timbo with the jr girls and both sr teams. Games will start at 5 pm. The Jan 17 date scheduled to be at Timbo will instead be at Viola.

Tonight's ballgames at home against Cotter have been canceled.

Just a reminder that school will be dismissed all next week for Thanksgiving break.

Just a reminder that the ballgames originally scheduled at Concord have been rescheduled for January 5th starting at 5:00 and that the senior high boys will play at Koshkonong tonight at 5:30.

Game time for tomorrow nights game at Koshkonong has been changed from 5:00 to 5:30. Only senior boys will be playing.

Viola School District would like to send out a thank you to all Veterans this Veteran's Day, especially to a very special group of Veterans who work very hard each and every day serving our Longhorn students. Thank Ms. Grass, Ms. Amber, and SRO Vacante. Not pictured Mr. Divelbiss.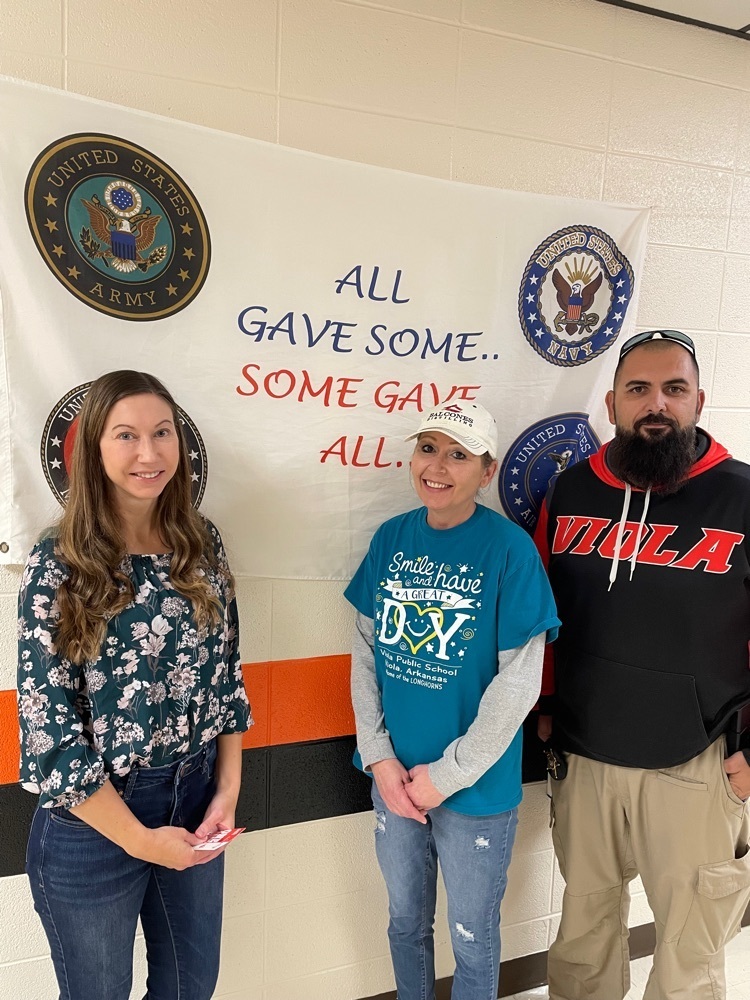 Congratulations to Kara Moore for concluding her rodeo season with an eventful weekend at the AFR Finals! Kara won the All Around Cowgirl , year end champion open goat tying, jr goat tying , and jr barrels. Buckles for weekend average in jr goat tying and reserved winner in 3D barrels.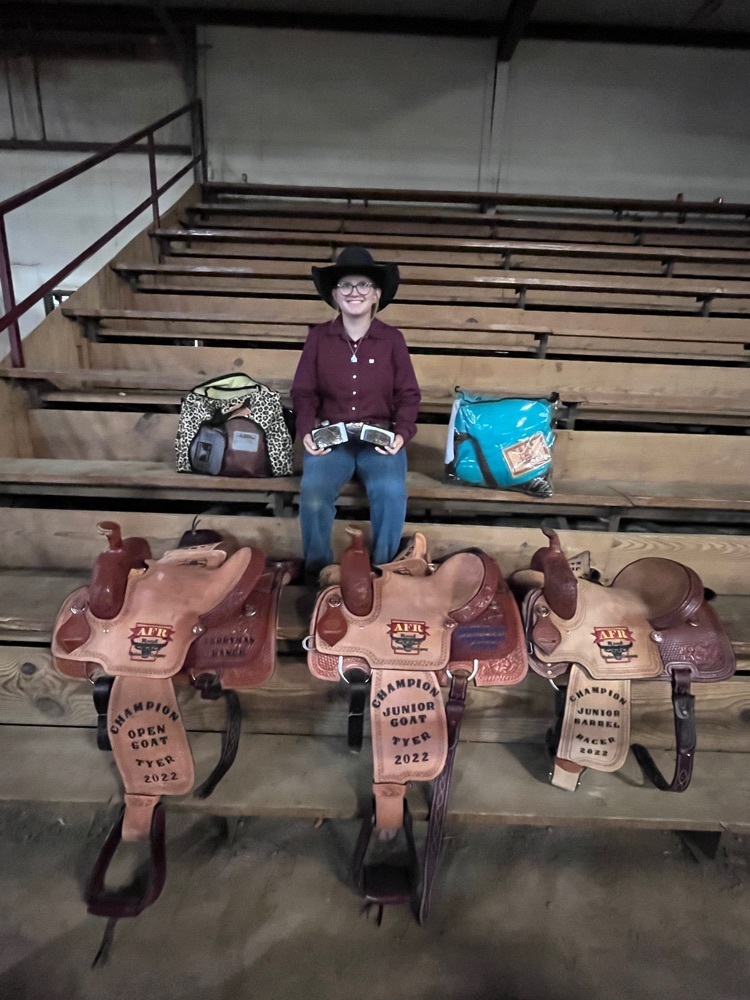 Geometry Foundation Lab:. applying knowledge of quadrilaterals.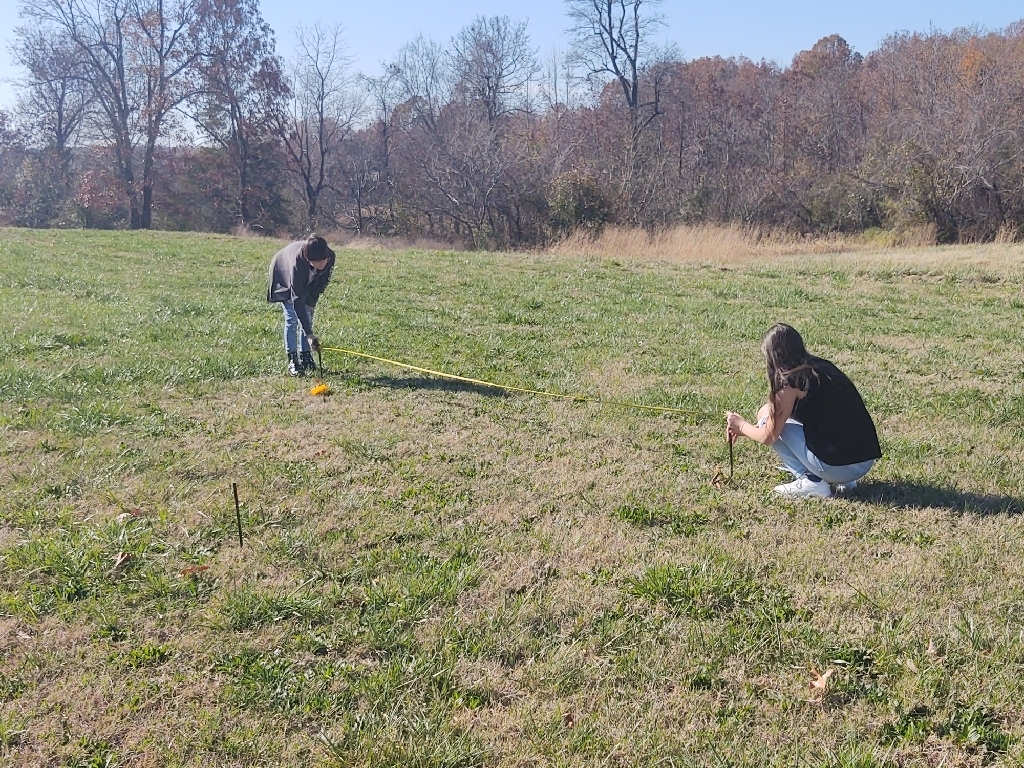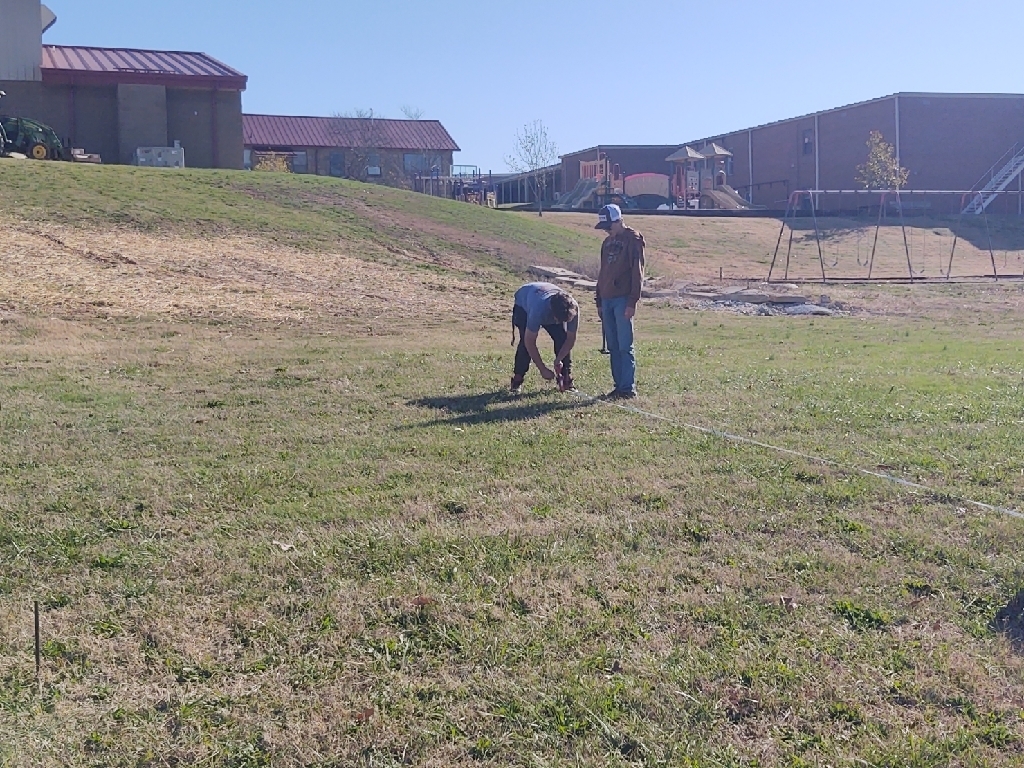 Geometry students applying their knowledge of quadrilaterals to lay out a foundation.